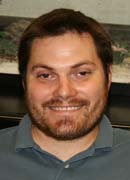 Aaron M. Tarone
Associate Professor, Department of Entomology, TAMU
---
Phone: 979-862-1311
Email: tamlucilia@tamu.edu
Background
Dr. Aaron Tarone has a B.S. in Genetics from UC Davis, a Ph.D. in Zoology from Michigan State University, and did a postdoc at the University of Southern California in Molecular and Computational Biology.  He has been publishing in molecular biology since 2003, in forensic entomology since 2006, and in genomics since 2008, with more than 40 peer-reviewed articles.  He has published in Nature, Science, and the Proceedings of the National Academy of Sciences. His forensically relevant publications have appeared in the Journal of Medical Entomology, PloS One, Insect Molecular Biology, Ecosphere, Journal of Forensic Sciences, International Journal of Legal Medicine, Annual Review of Entomology, and Trends in Ecology and Evolution. Tarone has experience with mRNA and transcriptomic research in fruit flies and blow flies.  His dissertation was funded by an NIJ grant to improve precision in age estimates using a quantitative RT-PCR based candidate gene approach, demonstrating the potential utility of gene expression in predicting fly age for forensic purposes.  He has collaborated with Dr. Jeff Tomberlin on two projects that have received NIJ funding – one on the microbiome of decomposition and another on the upper thermal limits of blow fly biology.  He also worked successfully on a number of genomic projects in forensic science including the development of transcriptomic tools for the forensically important blow fly L. sericata, functional and quantitative genomics in C. macellaria (NIJ funded), and miRNA / proteomics in several fly species relevant to forensics (NIJ funded).
CARFS Funded Projects
Microbiological correlates of blow fly development: Carrion-feeding insects collected as evidence from forensic investigations are currently used as a biological clock to provide information regarding the timeline of a death. Recent research has also indicated the promise of using microbiological evidence as a similar biological clock. The combination of both types of evidence could be powerful, as each biological system suffers from different limitations. However, preliminary work indicates these two biological clocks interact with one another. For instance, carrion-feeding flies are known to manipulate bacterial communities – to such a degree they are used as medical devices and their absence markedly impacts the trajectory of bacterial community assembly on remains. In addition, there is limited evidence that specific bacteria can impact carrion fly developmental, which is expected to impact the accuracy of insect age estimates in forensic entomology. Therefore, the proposed goal will be to dissect the interactions between these two types of evidence in order to most effectively interpret results from either biological clock.