University Cooperative Research Center
CARFS is the only forensic science focused I/UCRC in the country. An I/UCRC is a collaborative effort among industry, universities and government partners for the purpose of conducting pre-competitive research of shared value. This model has been successfully utilized and refined for over 40 years. These stakeholders partner to advance critical technologies from early stage research to the marketplace.
NSF-I/UCRC enables industrially-relevant, pre-competitive research via multimember, sustained partnerships across industry, academe and government. NSF supports the development and evolution of I/UCRCs, by providing a financial and procedural framework for membership and operations. It also promotes best practices learned over decades of fostering public/private partnerships that produce significant value to the nation, industry and university faculty and students.
The mission of NSF-I/UCRCs is to grow the U.S. innovation capacity by developing long-term partnerships among industry, academe, and government. Industry and NSF funds are leveraged to support and train the next generation workforce within a global context. Faculty and students complete user-inspired research projects with continuous feedback from industry partners to solve real-world needs. The Industrial Advisory Board (IAB) votes on research projects to fund. Faculty, students, and industry mentors/collaborators meet regularly and monthly progress reports are generated. At semi-annual meetings there are IAB discussions and brainstorming. CARFS works on research that is transformative and helps reshape the frontiers of knowledge of industry relevance.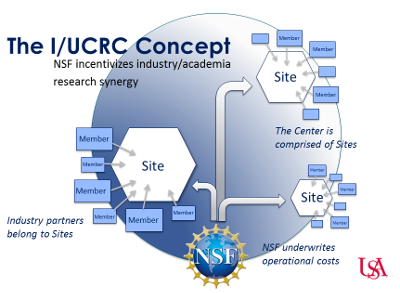 Together partners perform cutting-edge, pre-competitive fundamental research in science, engineering, technology area(s) of interest to industry which can also drive innovation and the U.S. economy. Members guide the direction of Center research through active involvement and mentoring.
I/UCRCs offer a platform for significant leveraging of financial investment by members to accelerate the knowledge base in emerging technologies and manufacturing sectors while developing an industrially savvy workforce to benefit US economy.
Patents
2021

Materials and Methods for Field Testing of Cannabis Samples. U.S. Patent No. 11131634. Acosta, A.; Almirall, J.

Venturi Vacuum Device for Biological Sample Collections. U.S. Patent No. 10,908,052. Mills, D.; Mendel, J.

2022

Materials and Methods for Age-at-Death Estimation. U.S. Patent No. 11,312,989. McCord, B. R.; Zapico, S. C.